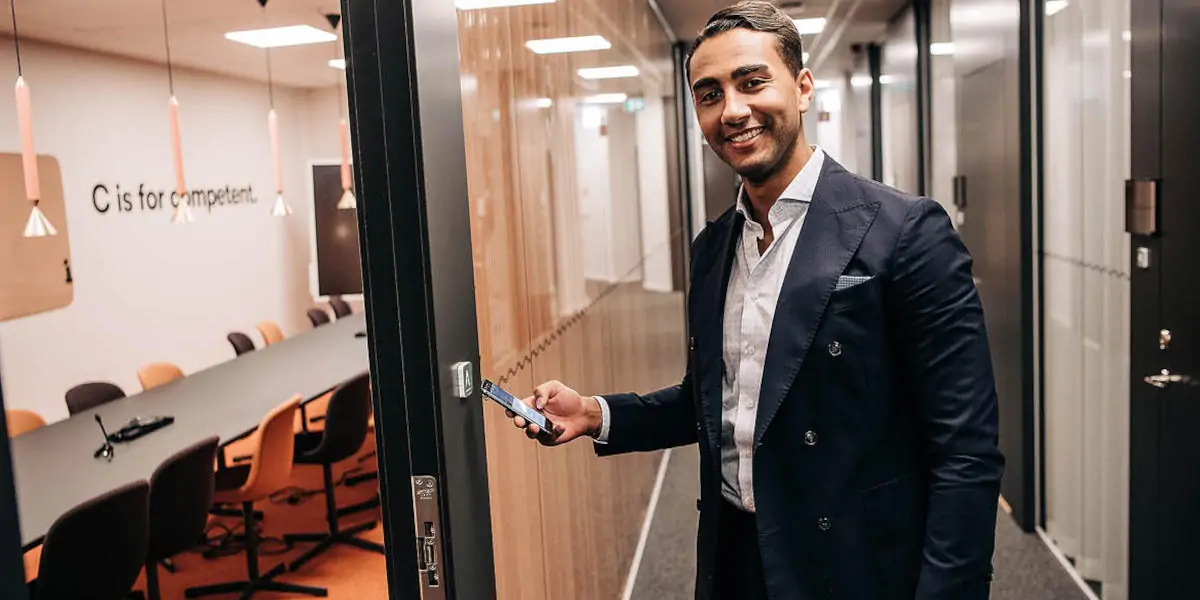 Gabriel Andersson, Photo: Erik Cronberg
Accessy - Digital pioneers
Property tech is often talked about as the future of the real estate industry. Rental, document management, operation and maintenance are some of the areas where digitisation can make a big difference. But in many places, the solutions have been practiced for a long time. Here you meet three people where the new solutions have already become part of everyday life.
As head of the real estate company Profi's coworking offer, Gabriel Andersson realized that a better system was needed for how access to the property Kabelverket in Älvsjö would be handled. Surveys have shown that 20–40 percent of service personnel's time is spent handling keys and access cards. In a coworking office, the figure is probably even higher.
It moves faster in a coworking office. Smaller businesses are growing, people are leaving at short notice and new tenants are coming in. It creates unnecessary hand-laying for service staff and caretakers which must print new tags which are then to be distributed on site.
The idea with Accessy, an app developed by Fastighetsägarna Service and some of Sweden's leading property owners, is that that responsibility is instead transferred to the tenants. With the app, they can distribute permissions to their employees themselves. No physical keys are needed because they can enter the property and the spaces you have access to via the mobile phone with the right authorization. It also makes the property safer as you avoid the risk of physical keys ending up going missing, as well as making it easier for deliveries or when, for example, the rescue service needs to enter the property, Gabriel says.
The goal is for our coworking offices to be unmanned, which becomes possible in this way and makes it very favorable for us as property owners. At the same time, customers are satisfied because it also saves time for them. We believe this will become very common in the future, especially in coworking offices.
Read the entire article in Fastighetstidningen via this link: länken.